In the fuel industry, the most commonly used are those of fossil origin, such as oil, gas oil, natural gas, among others. But since the ecological move began, the industry has experienced an increase in demand for a more natural and sustainable type of fuel, wood fuels. On the study of the uses of wood for energy purposes, the so-called biofuels or non-fossil fuels stand out, as in the case of bark briquettes.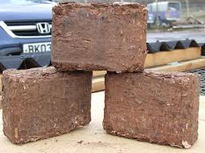 Bark briquettes are a type of fuel that is originated by the compaction of wood residues, mostly splinters, which come from the sawmill and other furniture factories. They have a cylindrical shape and are high density, although each manufacturer makes a different briquette. On this occasion, we will talk about wood briquettes made by a company from the United Kingdom, the Lekto Wood Fuels.
The company is engaged in the sale of wood fuels of superior quality. Its products are ideal to be used in heating systems, but also for open fires, multiple fuel burners, and wood stoves.
Lekto briquettes are easy to maintain and generate a cozy heat for up to 8 hours as they are slow burning. They are also the ideal complement for the kiln dried logs marketed by the brand. The heat logs ensure that the humidity level of both products is below 9%, allowing them a high performance in heat production. To make matters worse, the ashes resulting from the burning can be used in your garden as a fertilizer since no chemicals are used at the time during the process of making your products.
Their services in addition to the logs for sale bark briquettes, firewood lighters and others, include the personal delivery of orders. All your products can be purchased online directly from your website, providing customers with the process of purchasing their wood fuels easily and quickly.